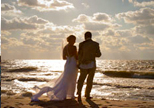 Few moments in your lifetime of memories will rival the day you marry the love of your life — beachfront, as the sun romantically descends over the Gulf of Mexico. Here on romantic Sanibel and Captiva Islands, there's no better place to start those memories than 'Tween Waters Inn. For more wedding information, menus and pricing, contact our weddings department here.
Welcome to 'Tween Waters Island Resort:
Every wedding should be this good.
On the magical islands of Sanibel and Captiva, there's only one resort charming, historic and personally-attentive enough to live up to the sentiment: it was the most special day of our lives.
That's the legendary 'Tween Waters Inn Island Resort. For more than 85 years, 'Tween Waters Inn has been helping bridal parties create memories that last a lifetime — from barefoot beach weddings to formal rehearsals, ceremonies and receptions for all of your family and friends.
Unlike any other wedding resorts on Sanibel or Captiva, only 'Tween Waters Inn offers:
A unique, romantic location 'tween the breathtaking Gulf of Mexico beaches west, and the natural beauty of Pine Island Sound east
A total of 137 colorful, eclectic, spacious, comfortable and value-added lodging — historic seaside cottages; Gulfview and Bayview studios; 1-, 2- and 3-bedroom suites; guest rooms
Traditional or creative rehearsal and reception settings: banquet hall; Captiva's top-rated fine dining restaurant; sunset lounge; plus poolside and other venues

On-site floral, photography and video coordination

The Spa at 'Tween Waters Inn for pre- and post-wedding relaxation, plus on-site bridal party stylings
Pleasure amenities including 'Tween Waters Marina for sunset cruise excursions, sailing, fishing, kayaking and more; tennis courts; fitness center, on-site restaurants, heated swimming pool.

Now that you've said "I love you," say "I love it" — and contact our Sales Department today at 800.223.5865 (x2) or fill out our brief wedding inquiry.
Sunset Beach Weddings:
Why You'll Love 'Tween Waters Inn.
Travelocity calls Captiva's sunset "the most romantic in all America" — and you'll agree. To help you make the most of your magical beach wedding, 'Tween Waters Inn offers you three breathtaking beach ceremony options, complete with choices of accoutrements including lattice archway, sunset tiki-torches, beach seating and more. Soft white sugar sand, warm turquoise Gulf of Mexico waters and brilliant sunshine, no additional charge. For more information, menus and pricing, fill out our brief wedding inquiry.


Comprehensive Wedding Services:
Why You'll Love 'Tween Waters Inn.
'Tween Waters Inn Island Resort provides a comprehensive complement of services that add the icing to your wedding cake — including beach ceremony runners, archways, seating and more; banquet white linens and skirting (no additional charge) or special-order linen colors and fabrics (market price); plus preferred wedding vendors (planner, florist, photographer, videographer, entertainment, more). For more information, menus and pricing, fill out our brief wedding inquiry.
Marriage License Information:
Lee County, Florida.
Where to Apply: Marriage license can be acquired Monday-Friday, excluding U.S. legal holidays, at the Lee County Administration Building, 2115 Second Street in Fort Myers, from 8:00 am to 5:00 pm. Licenses are available to both Florida residents and non-residents. Learn more at LeeClerk.org.
When to Apply: Licenses are issued immediately upon application and valid for 60 days from date of issue.
Identification: Couple must appear together in person and must be 18 years or older. Valid picture identification such as drivers license or passport showing picture and signature is required. If not first marriage, date previous marriage ended is required; if within six months, proof of date marriage ended is required. If legal name differs from name on drivers license, birth certificate is required.
Blood Test: A blood test is not required in Florida. Waiting Period: No waiting period is required for non-Florida residents. There is a three-day waiting period or four hours of premarital counseling required for Florida residents.
Fee: See LeeClerk.org for costs and other details. Cash only.