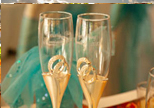 From light and casual, to elegant and formal, top off your wedding with Captiva's top banquet service at 'Tween Waters Inn Island Resort. You'll delight at our fresh, creative, award-winning food and beverage menus — as well as our dedication to making your wedding day joyous, memorable and stress-free.

Reception Displays
Let the celebration begin with a mouthwatering presentation of only the freshest Reception Displays — including Poach Salmon Fillet, Imported and Domestic Cheeses, Fruits of the Seven Seas and many more.
Appetizer Selections
Some like 'em hot. Some like 'em cold. But everyone likes 'em at 'Tween Waters Inn — our hot and cold Appetizer Selections including Crab Rangoon, Petite Skewered Kabobs, Iced Jumbo Shrimp, Sushi and Sashimi, and much more.
Plated Dinner Selections
Make your special occasion one that everyone will remember with the formal elegance and delicious tastes that only Captiva's top-rated kitchen can promise — including Grilled Filet Mignon, Jerk Rubbed Grouper, Crab Stuffed Shrimp and more Plated Appetizers, Entrees and even Desserts.
Buffet Selections
If you like choices (and who doesn't?), you and your guests will love our Buffet Selections. These multi-course taste sensations (Appetizer, Entrée, Dessert) include fresh-daily Tropical Nights Dinner Buffets, Themed Dinner Buffets, Carved Selections and for the beautiful morning after, our Here Comes the Sun Breakfast Buffet.
Desserts & Beverages
At 'Tween Waters Inn you we offer a wide variety of whole and individual buffet desserts, certain to rival any wedding cake. Complete your night, from reception, to toast, to after-party, with outstanding beverage service.